Plovi Barko recorded at The Cathderal of the Isles, 24th March 2019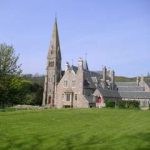 A year has now passed and another weekend away with the Community Choir arrived. We all met at the Ferry Terminal in Largs and off we went across the water to Cumbrae.
After getting our room keys, at the Cathedral Bed and Breakfast and having deposited our cases into our rooms, we then met over coffee and proceeded to the library to start our first practice session.
While warming up Harry explained how our warming up exercises aimed to improve our singing. He then taught us about a few techniques i.e. using accents, volume and smooth/staccato in our singing. We then continued on to learn a couple of new songs and to practice the ones we would be singing in the cathedral on Sunday.
Later, in the Cathedral, we started singing altogether in the nave and later we moved around into different parts of this very small Cathedral to hear the differences in the sound, especially when we had the freedom to stand where we liked and not in choir formation.
As with our previous visits we had a very enjoyable social evening with some individual and group singing, poetry reading, monologues and a quiz set up by two of the members. All of these were great fun and we did a lot of laughing, snacking and some drinking too.
On Sunday, after an ample breakfast we practiced in the library before meeting up with the Chancers who arrived in time to join us for lunch and then performed with us in the Cathedral at 3 o'clock. We all enjoyed this very much before returning to the ferry.
This year there was a change in the people running the Bed and Breakfast, but we all agreed that the organisation was good and the meals quite outstanding.
As a group, we are very lucky and grateful to our teacher, Harry for his persistence and patience in bringing the best out of the choir and also to Aileen and the committee for organising the trip.
New members are always welcome into this warm and friendly group of people who all want to enjoy singing together.
Madeline Driver