Singing in the Square.
Our choir year 2017/18 culminated in a performance on the new Gallowgate Square as part of the international Make Music Day 2018. We bravely battled against the winds to deliver a rousing performance of five of our favourite songs. We live streamed the performance on our Youtube Channel to friends and family across the miles.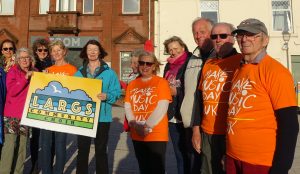 The evening finished In The Anchor Bar with refreshments and sandwiches.
Thanks to all of those who supported the event and who have supported the choir throughout the year. A special thanks to Harry Campbell, our choir leader, who continues to inspire and challenge us. We are looking forward to the coming year.