We enjoyed a fantastic joint performance with The Chancers on Thursday 29th November. It was great to have the chance to perform with such a talented bunch who brought the house down with their lively set.
Thank you too, to all of our family and friends who joined us and for your support throughout the year.
A special thank you to Harry Campbell who continues to challenge and inspire us.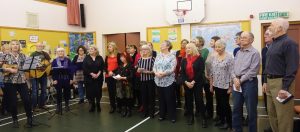 Wishing you all a very Happy Christmas and a wonderful 2019.
Sloop John B
The Chancers and Largs Community Choir