End of Term Concert a huge Success
Our end of term concert on 28th November was judged a huge success by all involved. It was a wonderful end to a busy term which seemed to whizz by in a flurry of harmonies.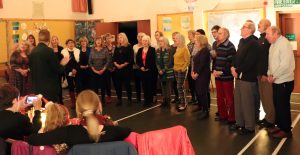 The choir excelled itself with tunes from around the world and beyond , and choir members Matt and Bob enthralled us with their performances of the small pipes and poetic recitation .
Alison from Craigie Chancers sand two beautiful Appallachian folk songs and local band Lodestone entertained with a number of tunes included Galway Girl.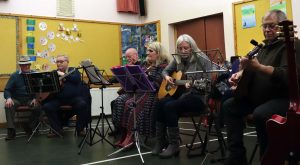 Fiona spoke very eloquently on the choir and the positive impact it can have.
There was even a nail biting competition to win a bottle of champagne.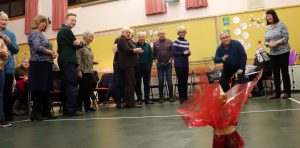 The evening raised over £300 for choir funds.
A huge thank you to all involved especially Harry , our choir leader and Aileen and the choir committee, to guest artistes and contributors and to all who support us throughout the year.
And here's a taste …
Ipharadisi
Pay Me My Money Down