Make Music Day
21st June 2019
Largs Community Choir and Largs Gaelic Choir
A Joint Celebration
MAKE MUSIC DAY (2019) Report by Madeline Driver
We did it folks and I feel we did well on the night, I certainly enjoyed singing outside the Green Shutters alongside the Gaelic Choir with the sun on the water behind us.
The sun shone and there was very little wind, ideal conditions for singing outside – a bit different from 'Make Music Day' last year when we sang in the newly refurbished Gallowgate Square, battling against a very cold and blustery wind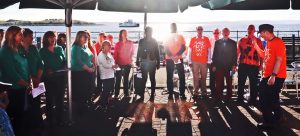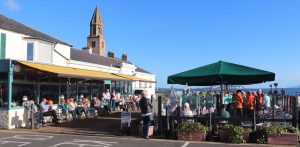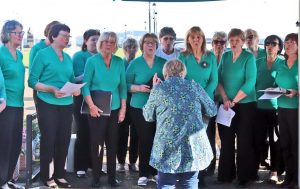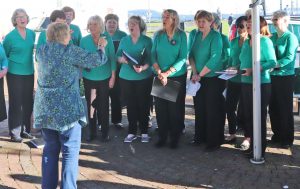 Mixing and chatting with members of both our choir and the Gaelic choir over a drink in the restaurant was a very fitting end to the concert. I believe, after I left, there was an extra song or two sung. My loss for having to shoot off early.
Our thanks go to the owner of the Green Shutters for allowing us to sing there and to the Gaelic Choir for joining us.  Perhaps we can collaborate again with them in the future.
Well that's it for another year and we have the prospect of the next three months with no choir practice!!  What will we do?
Of course most of us will be using the time to brush up on our lyrics and practicing the songs………  PERHAPS NOT.  I think we will hopefully be enjoying the sunshine, when it appears in Largs, and maybe holidaying somewhere nice as well.
I would like to wish Harry and all choir members a very enjoyable break.
 Cheers everyone and have a lovely time over the Summer. I look forward to us all meeting back with great enthusiasm and in fine voice in the Autumn.