The successful bidders will be notified by Monday 21st June.
Largs Community Choir has continued to rehearse virtually since the start of the lockdown restrictions in March 2020. We are looking forward to a time in the near future when we will all be singing together again. But we need to boost our funds ( as well as our membership).
Please support us in our Silent Auction .
To take place virtually on Sunday 20th June 2021
Have a look at the lovely goods and experiences on offer below.
Please note that postage may have to be added on for some items to be delivered outside of the local areas, and for some lots only local delivery is possible. We hope you understand.
Use the form below to bid. Please specify the lot number you wish to bid for and the amount you are offering. Some items have a fixed price. Please also give an indication of where you live so that we can prepare an estimate of delivery costs if any.
Complete and submit a separate form if you want to bid on more than one lot.
Please also use the form to send any enquiries ( choir members can email directly using choir contacts.)
All bids to be in by midnight Saturday 19th June 2021
All successful bidders to be notified as soon as possible after closing date.
Then you will receive details of how to make your payment to the choir account and when you might expect to take receipt of your lovely lot.
Please note some goodies have a fixed price. In the event that we are oversubscribed, the winners will be allocated using a random number generator.
Similarly, in the event of identical bids, winners will be chosen at random.
Thank you to all the wonderful donors who have helped us to raise vital funds.
Good Luck and Happy Bidding. Thank you for supporting Largs Community Choir.
Guided Tour of Old Largs Cemetery
With local cemetery enthusiast Marion Davidson.
Discover the fascinating history of a local landmark and uncover its secret stories and famous residents.
For up to 10 participants.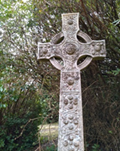 Date to be negotiated with successful bidders but likely to be early July
Please note not suitable for wheelchair users or those with significant mobility issues.
Lot 2
Ponies and Trap – Original drawing purchased many years ago at an exhibition in Port Glasgow.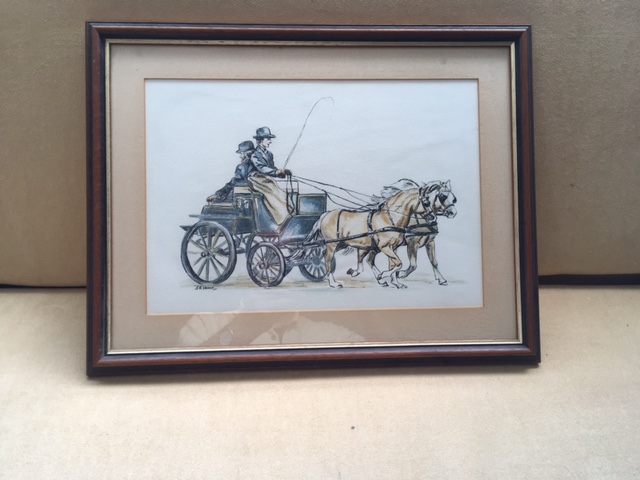 Reserve £20 although any reasonable donation acceptable.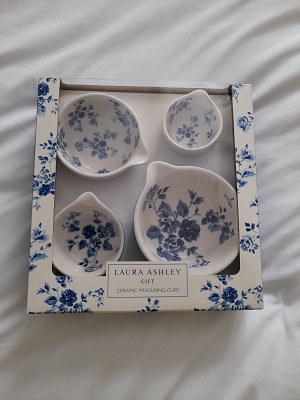 Brand new in box
Laura Ashley Ceramic Measuring Cups
A voucher for a beautiful blowdry
at local hair salon Salon 17 https://www.salon17.co.uk/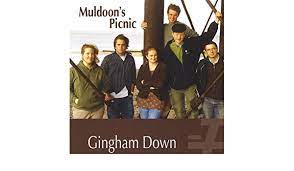 Lot 5
A Musical Treat
Muldoon's Picnic
Gingham Down –
a wonderful CD from the acclaimed vocal group
Reserve price
£10.00
http://muldoonspicnic.weebly.com/
Lot 6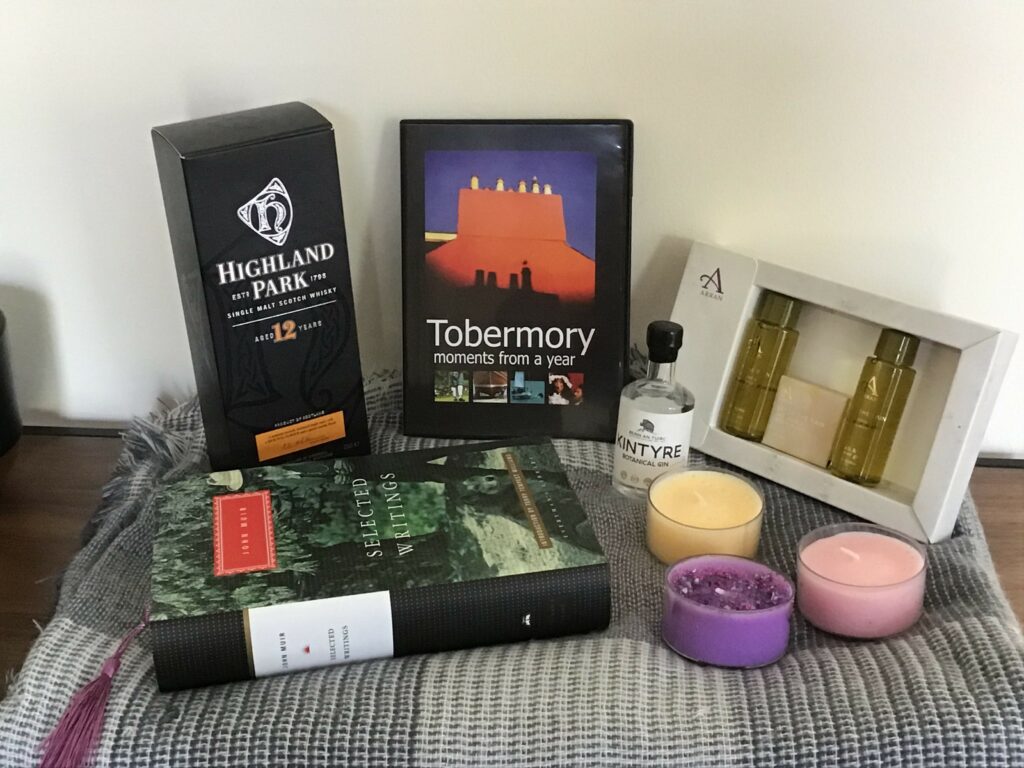 20% wool 80% acrylic throw
Selected writings of John Muir with floral decorative bookmark
Highland Park 12 year single malt whisky 35cl
Kintyre Botanical Gin 5 cl
Tobermory moment from a year DVD
3 Best Kept Secrets Scottish Collection scented candles
Arran Aromatic After the rain miniatures; shampoo (30mL), bath and shower gel (30mL), soap bar (25g)
Reserve price £22.00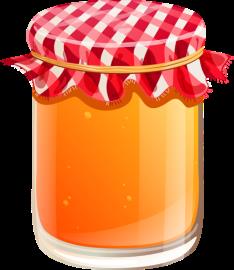 Choose from a range of delicious home made preserves .
Raspberry and redcurrant jam
Strawberry jam
Apricot and orange
Bramble jelly
Marmalade
Smoky tomato and red pepper relish
Rhubarb and fig chutney
Fixed price
£1.50 per jar ( £1.00 for smaller jars )
Local delivery only – sorry.
DINNER FOR FOUR

A delicious 2 course home-cooked meal for four could be yours….an opportunity to get together with friends and enjoy sharing a meal without the bother of preparing it!
Menu to be discussed with the successful bidder.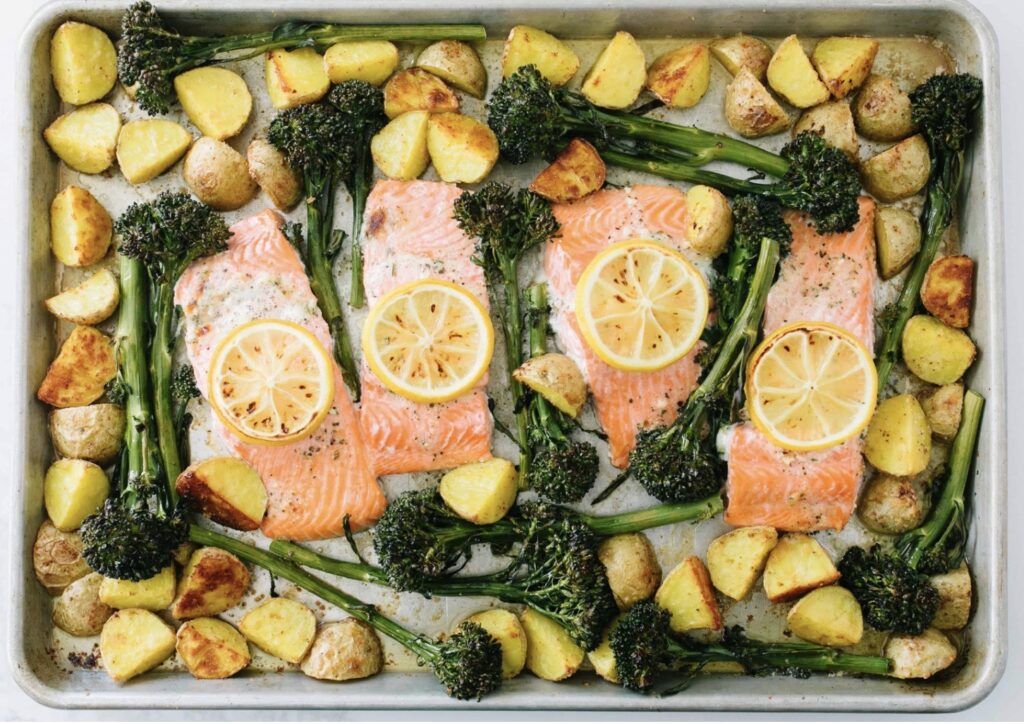 Can deliver as far as West Kilbride to the South and Skelmorlie to the North
Reserve bid £ 28.00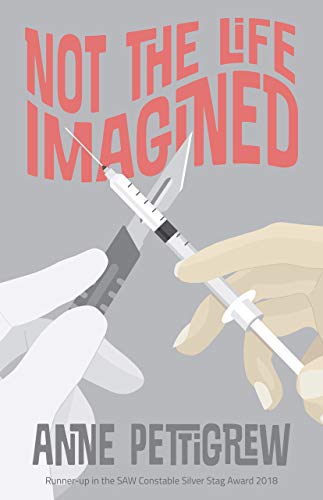 2 novels by local author, Anne Pettigrew.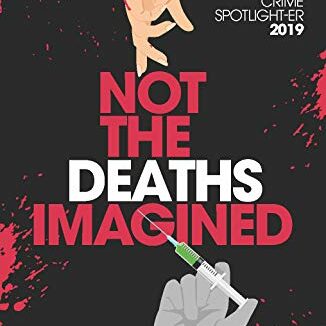 And its acclaimed sequel
If you are a fan of medical crime thrillers, you will love these. Signed by the author.
reserve bid – £ 15.00 for both
Check out Anne's website https://annepettigrew.co.uk/ for further details including her fundraising project for Plan Uk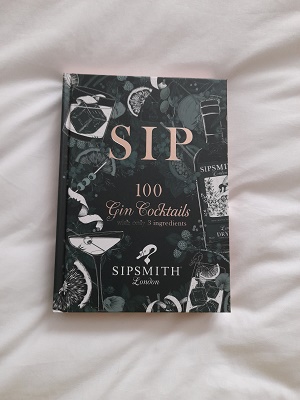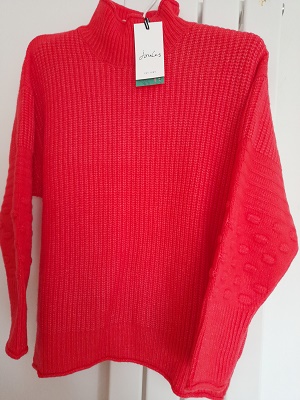 Lot 11
Gorgeous Joules Jumper
Brand New with Label
Size 12
Style Kalia
Colour Orange
Reserve bid £12.00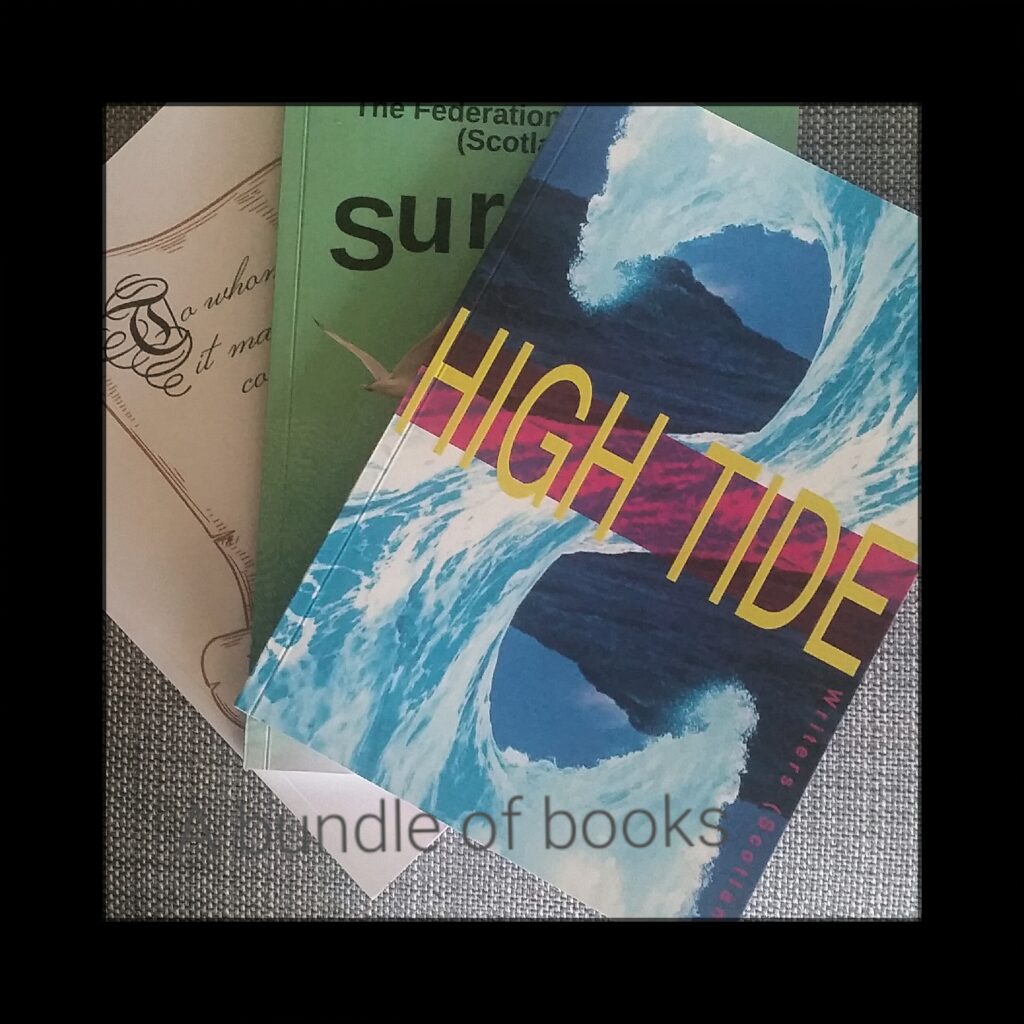 From The Federation of Scottish Writers
A Bundle of Books
Brand new
2019 Writing Anthology – High Tide
2020- Writing Anthology – Surfing
and To Whom It may Concern – a collection of writings
Reserve bid £15.00 for the bundle or may be sold individually. To find out more about the Federation please click https://federationofwritersscotland.com/
Beautiful brand new Ted Baker cosmetic bag and matching mirror
Reserve bid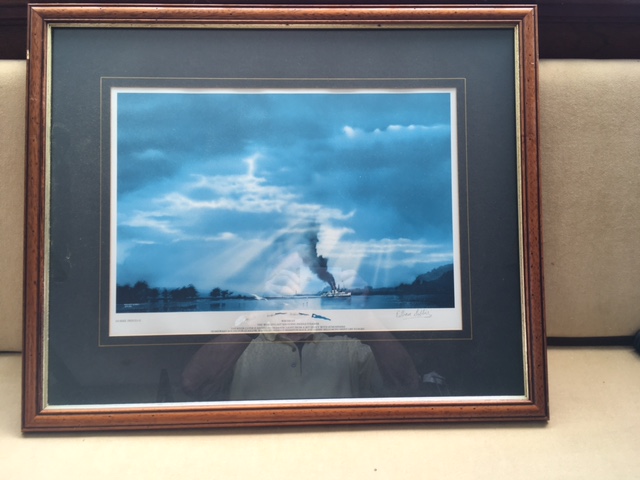 Lot 14
The Waverley
a beautiful framed print in excellent condition.
One of a limited series
Reserve bid
£ 20.00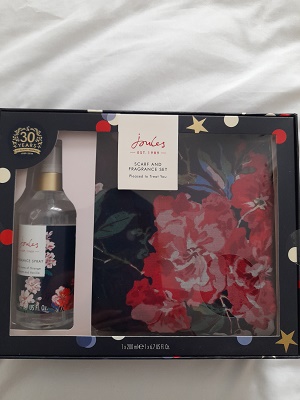 Lot 15
gorgeous Joules scarf and fragrance set
Brand New in box
Reserve £8.00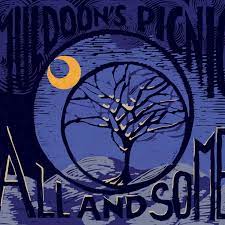 Muldoon's Picnic – All and Some
A wonderful CD of festive songs
Reserve £10.00
http://muldoonspicnic.weebly.com/all-and-some.html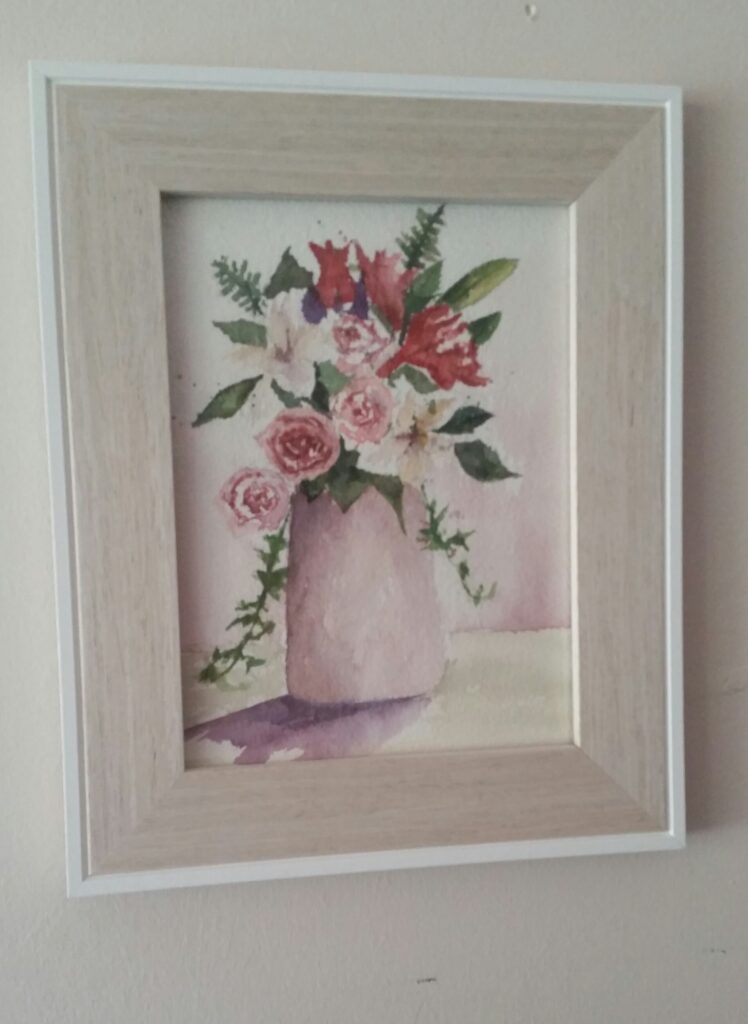 Lot 17
An exquisite water colour framed original of flowers in a vase by a local artist.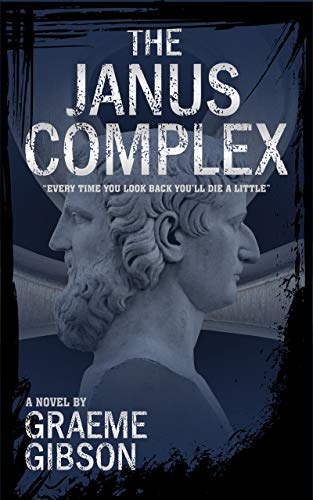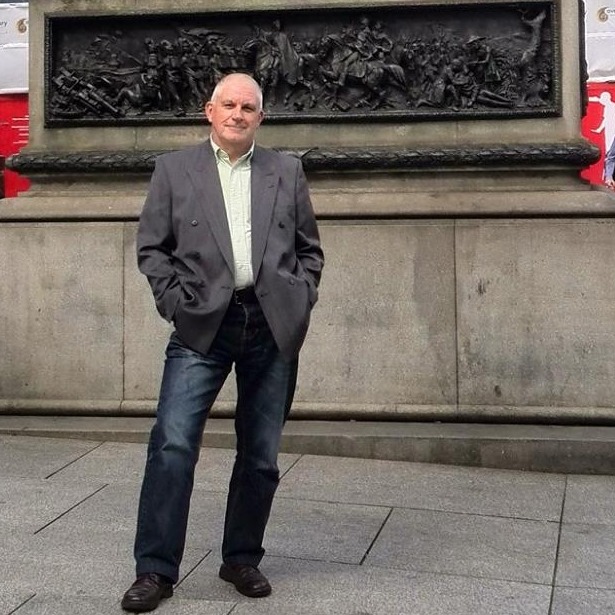 Lot 18 – A Graeme Gibson Trilogy
( signed by the writer )
The Janus Complex trilogy by signed by the author.
Reserve price £ 18.00 for the trilogy or may be sold separately.
(Please be warned not for those of delicate sensibilities)
Check out Graeme's page on Amazon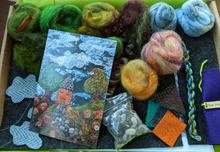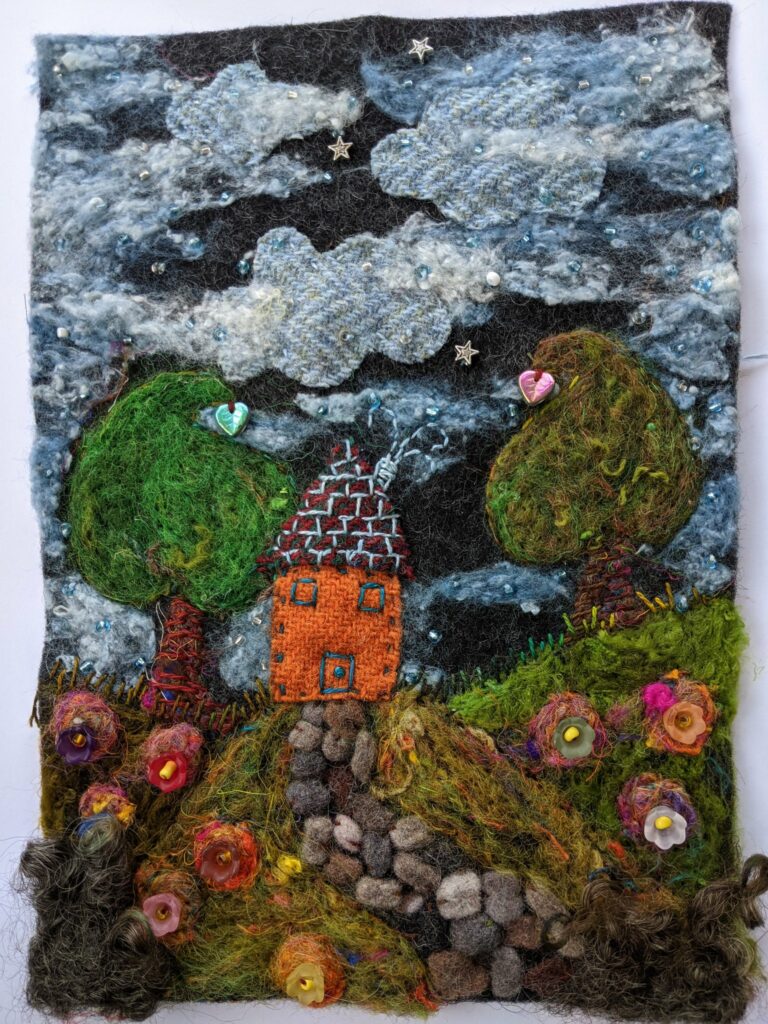 Home is where the heart is
Kindly donated by HopeJacare, a local felt artist. Comes with everything you might need including felting needles.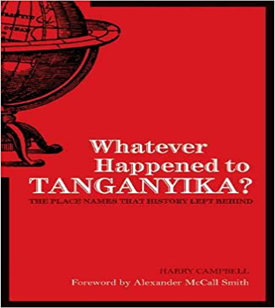 Lot 20
This is a literary cartography to delight armchair travellers everywhere. It includes a wonderful mix of fascinating facts and warm nostalgia. It is now available in paperback. Do you still find yourself referring to Zaire or Czechoslovakia, or wondering whether it should be Moldavia or Moldova, Burma or Myanmar? Dozens of countries, cities and counties have changed their identity over the years – even within our lifetime. "Whatever Happened to Tanganyika?" is a fascinating trawl through the place names that history left behind. From the major political movements (the Leningrads and Stalingrads of the Socialist Soviet Republic) to enticing destinations (Pleasant Islands, the Friendly Isles), this wonderful little book, now available in paperback, reveals how the atlas of yesteryear became the maps of today.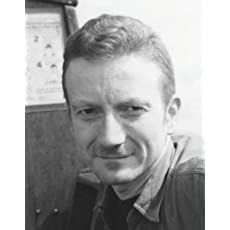 Signed by the author
Reserve bid £ 9.00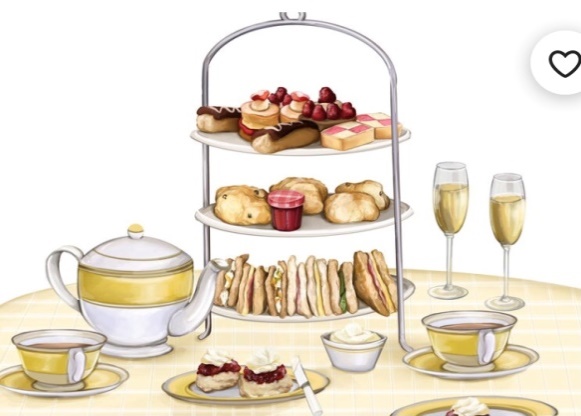 Lot 21
Afternoon tea for four people at Fairlie Gardens-
with Eleanor and Lisbeth
Reserve price £8.00 per person
Date to be negotiated
Everything you need for a garden/ beach picnic
( hopefully in the sunshine )
Chilled homemade picnic food, both savoury and sweet , with soft drinks.
Bowls, plates, cutlery, glasses, napkins etc included.
All packed ready in a chiller bag.
4/5 days notice please, keep your eye on 5 day weather forecast!
Reserve price £20.00
Reserve Bid £20.00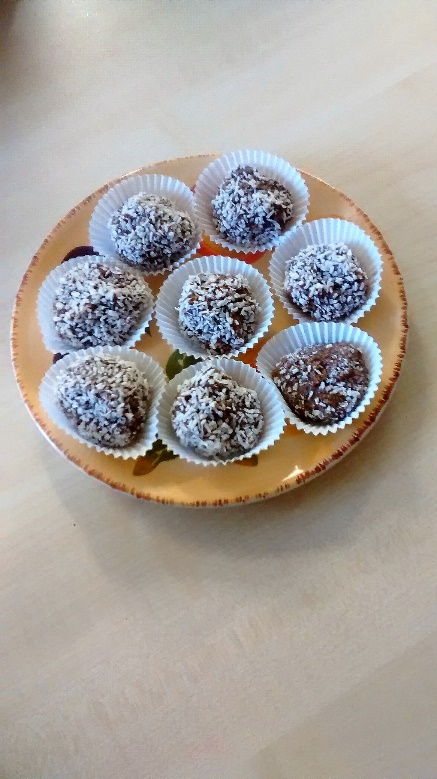 Aileen Pollacchi's world famous truffles
A chocolate delight!
Complete with family recipe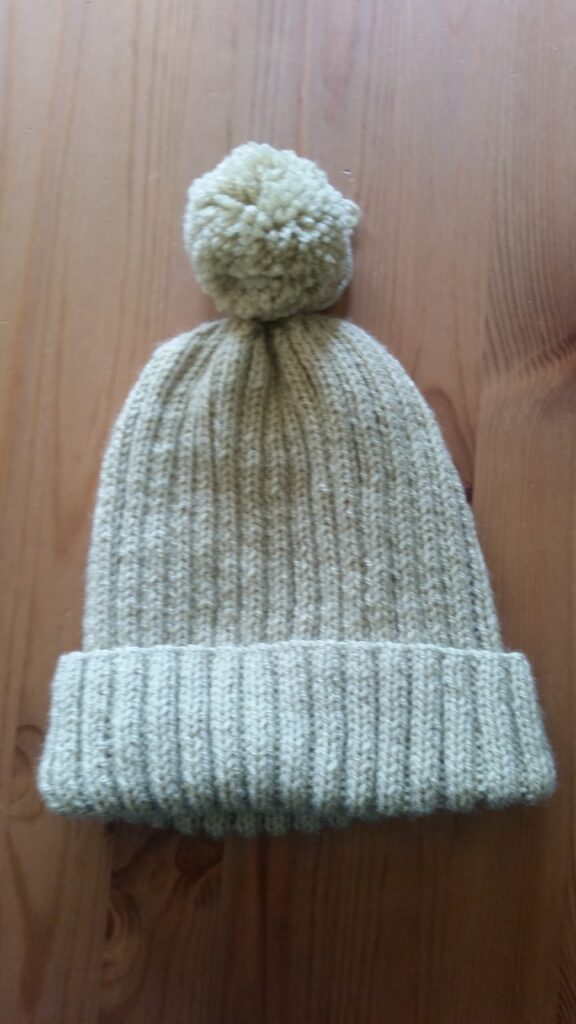 Lot 25 – keeping cosy
Beautiful pale mustard knitted hat with two different sized pompoms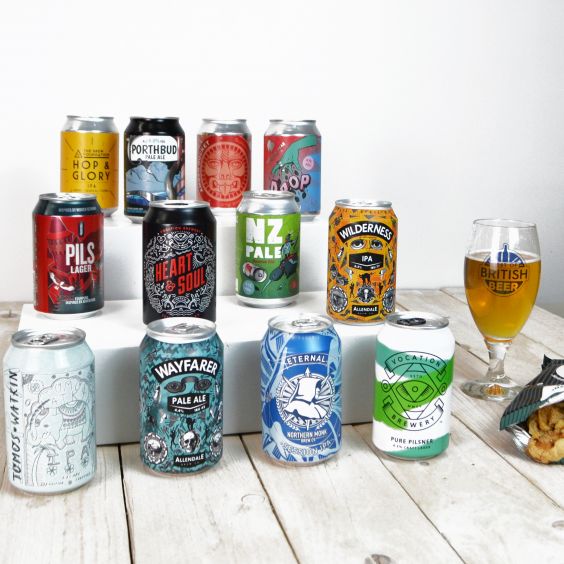 Then this is the lot for you !
Either the British Beer Craft Beer box Choose from 12 x 330ml of the finest beers from a range including First Rock and Wayfarer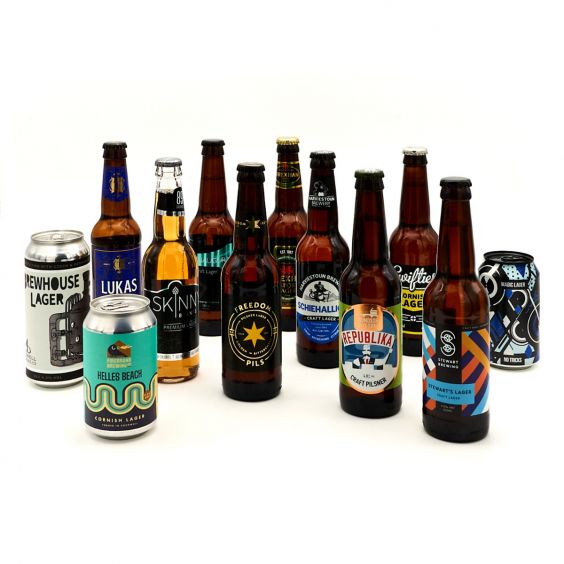 or The British Beer Craft Lager box
a selection of the finest lagers including Keltek and Harviestoun
Reserve Bid £ 25.00 ( includes delivery to UK address )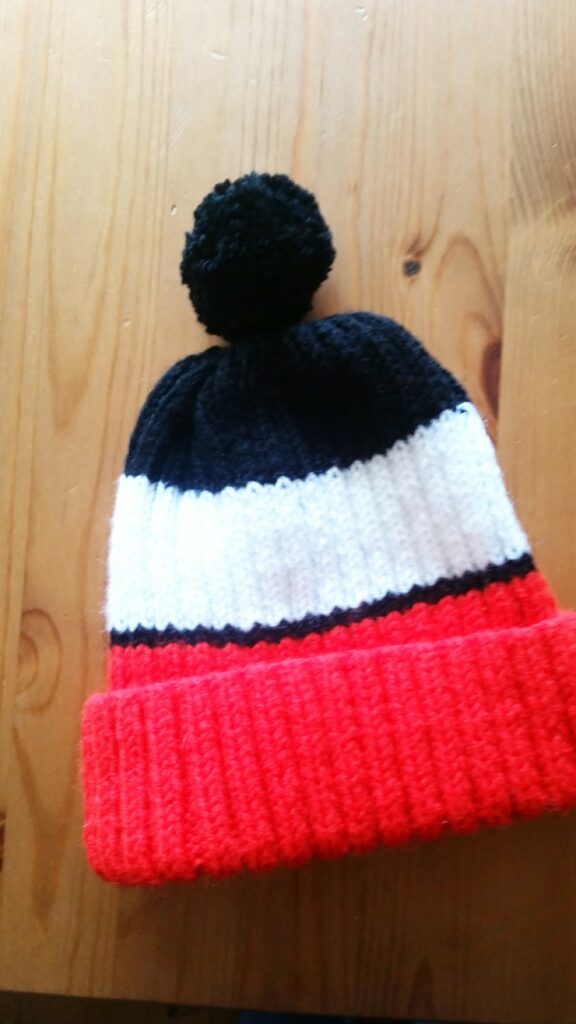 Lot 27
The iconic Waverley Knitted Hat-
a gorgeous tribute to the beloved paddle steamer
Lot 28
A haircut from acclaimed hair stylist, Jamie Lindsay, of Salon 17, Largs.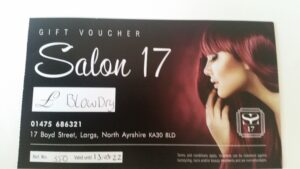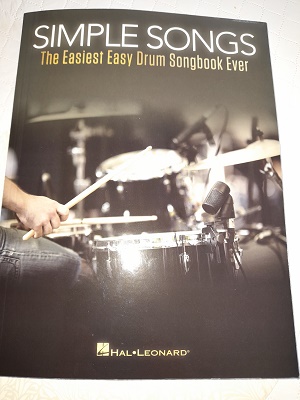 New and unused
Simple Songs – The Easiest Easy Drum Songbook ever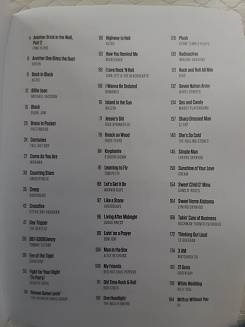 A huge number of classic songs to delight your friends and neighbours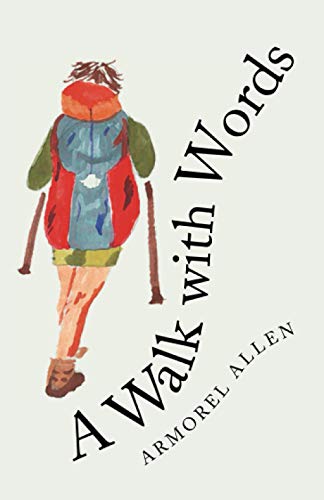 Following in the footsteps of thousands of pilgrims since the Middle Ages, Armorel set out alone from St Jean Pied de Port in the French Pyrenees. She walked across mountains and plains, through villages and cities for 500 miles until she reached Santiago de Compostela in Galicia. On the Way, she wrote poems which describe the experience and the development of a deeper connection with all of life. Introducing each poem is a short note on the stages passed through. Although solo, the pilgrim was one of many treading this path and deep friendships were forged. This book will resonate with those who have made their own Camino, as well as hopefully inspire others to take time out and to challenge themselves.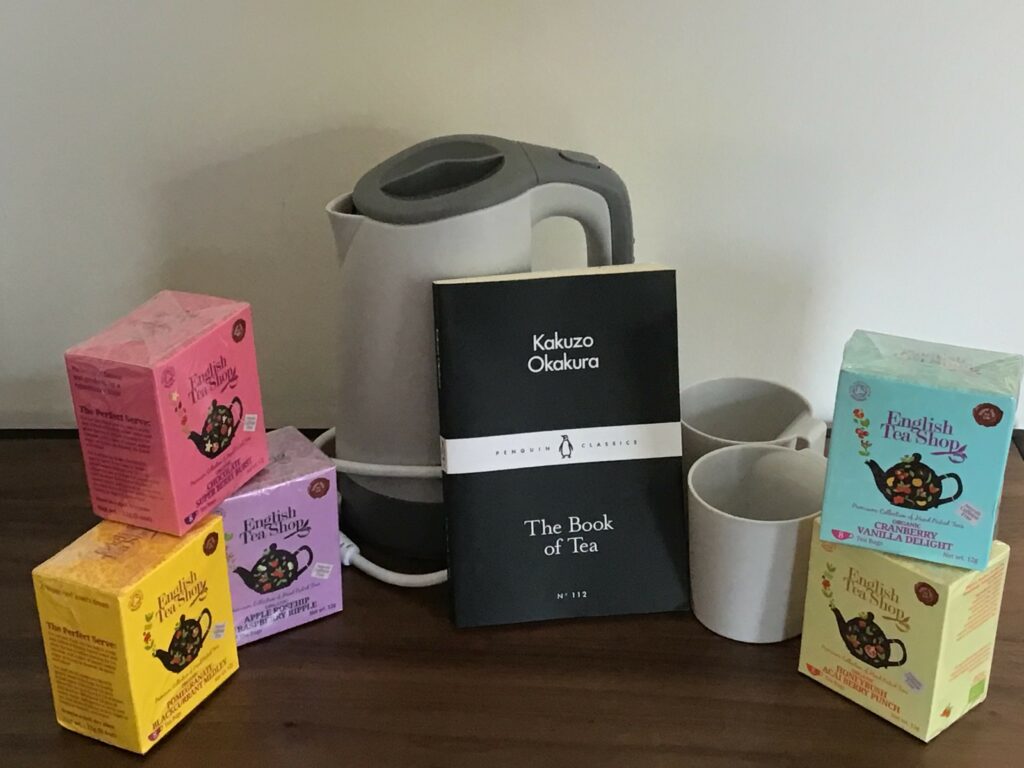 Swan travel kettle and two cups
Five English Tea Shop packs of 8 organic teabags; Chocolate super berry burst, honetbush acaii berry punch, pomegranate blackcurrant medley, apple rosehip raspberry ripple, cranberry vanilla delight.
The Book of Tea by Kakuzo Okakura.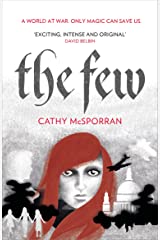 Beautifully written and suitable for young adult readers
England, 1940. Hitler's armies wait across the Channel for the chance to invade. Only two things are stopping them: the Royal Air Force in their fighter planes; and the covens of British witches, the unknown, unsung Few who draw their magic from the land and people around them.
Maggie never wanted to be in the army. But the magic has chosen her. Winston Churchill has chosen her. Now Maggie and her friends have to join with the Spitfire pilots of Kestrel Squadron to keep back the flying fortresses of the Nazi invaders.
But Hitler has a worse weapon at his disposal. He has the gothi, the Nazi necromancers who want to bring their terrible light to Britain. They are waiting to cross the sea. And they are bringing their goddess with them.
The Battle of France is over. The Battle of Britain is about to begin…
Based on true events, The Few is a story of witchcraft, magic and sacrifice set during the darkest hours of the war.
"Both my sons loved this book as I did too. A well written novel not only for children. This would be a great present for young adults of all ages."
Signed by the author.
Reserve bid £6.00
Cathy McSporran's fiction has appeared in a wide range of magazines and anthologies such as Mslexia, Chapman, Nerve, Eclogia and From Glasgow to Saturn. She has been shortlisted for the Macallan/Scotland on Sunday prize, and was awarded the Constable Award by the Scottish Association of Writers. She has a PhD from Glasgow University's School of Creative Writing, and teaches classes in creative writing, poetry and Dante's Inferno in Glasgow's Open Studies department. Cathy's debut novel Cold City was published in 2014, and her second novel The Few – a story of witchcraft during World War II – appeared in 2015.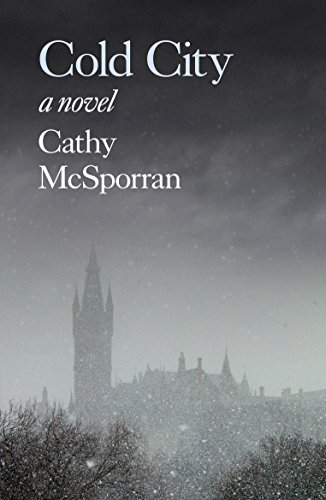 I'm alive in this world, and dead in the other…
Suzey Pherson ought to be happy. She lives in a bright new Scotland, where the old hatreds are fading into the past. Her beloved brother is out and he's proud. Suzey has everything to live for.
So why does she keep waking up in a world of snow and ice?
Suzey has fallen into a parallel world: a Scotland deprived of the 'hot tap' of the Gulf Stream, and now gripped by Arctic winter. Lochs and rivers are frozen. Wolves prowl the city streets. People are hungry and desperate: they're looking for someone to save them, and for someone to blame. An American evangelist thinks he can provide them with both.
Suzey wants to protect her brother. Suzey wants to go home. But it seems she can't do either. And she can't escape her country's ultimate fall into darkness: nuclear winter – Ragnarok: the end of the world in ice…
Signed by the author
Reserve bid £ 6.00