Happy New Year 2020
we're back on Thursday 23rd January
End of Term Concert a huge Success
Our end of term concert on 28th November was judged a huge success by all involved. It was a wonderful end to a busy term which seemed to whizz by in a flurry of harmonies.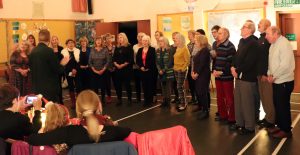 The choir excelled itself with tunes from around the world and beyond , and choir members Matt and Bob enthralled us with their performances of the small pipes and poetic recitation .
Alison from Craigie Chancers sand two beautiful Appallachian folk songs and local band Lodestone entertained with a number of tunes included Galway Girl.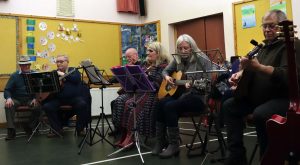 Fiona spoke very eloquently on the choir and the positive impact it can have.
There was even a nail biting competition to win a bottle of champagne.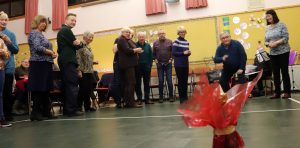 The evening raised over £300 for choir funds.
A huge thank you to all involved especially Harry , our choir leader and Aileen and the choir committee, to guest artistes and contributors  and to all who support us throughout the year.
And here's a taste …
Ipharadisi
Pay Me My Money Down
Largs Community Choir
Open Evening
Thursday 28th November
7.30 – 9.00pm
Brisbane Evangelical Church Hall
School Street.
Come along and join us in a cabaret of songs from around the world!
Unlock your musical talents!
Raffle and Refreshments
(or bring along a bottle)
All welcome
Free entry but any donations to choir funds very welcome
And here's a review of Glasgow Shanty Day from The Scotsman:
Sat 28th September 2019
 Paisley Abbey, Paisley, PA1 1JG
The world premiere of the opera "Tannahill" at the historic Paisley Abbey. Music by Alan Fleming-Baird and produced and directed by renowned tenor David Douglas.
Event Details
Doors Open at 7:00PM
Starts at 7:30PM
Location
Paisley Abbey, Paisley, PA1 1JG
Stop Press!
Largs Community Choirs resumes
Thursday 26th September at 6.45pm 
in Brisbane Evangelical Church Hall. 
See you there !
Beside the Seaside, Beside the Sea
Four choirs came together for an afternoon of singing and fun, on Sunday 115th September .
Largs Community Choir hosted the event in St Columba's Episcopal  Church Hall, and welcomed members of Govan Voices, VoiceBeat and Largs Gaelic choir.
The songs ranged from sea shanties to African freedom songs, reflecting the diversity and talent of the singers.
And following the hugely enjoyable workshop, the singers wandered to a local Largs hostelry and eased their parched throats. Some may even have partaken of a fish supper. 
A fantastic event which we hope to repeat in the new season which begins this Thursday 26th September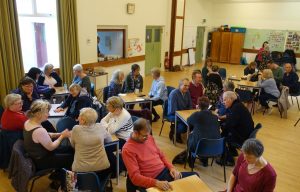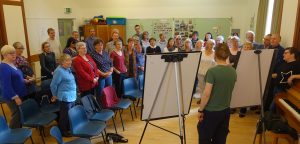 International Make Music Day Friday  21st June 7pm
We are delighted to announce that we will again be taking part in International Make Music Day and this time we will be singing with our friends from The Largs Gaelic Choir. The concert will take place in the evening open air at The Green Shutters ( or inside if the weather is not favourable. ) Hope to see you there !
Plovi Barko recorded at The Cathderal of the Isles, 24th March 2019
Millport Singing Weekend – 23rd – 24th March 2019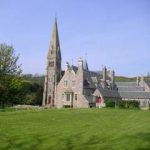 A year has now passed and another weekend away with the Community Choir arrived.  We all met at the Ferry Terminal in Largs and off we went across the water to Cumbrae.
After getting our room keys, at the Cathedral Bed and Breakfast and having deposited our cases into our rooms, we then met over coffee and proceeded to the library to start our first practice session.
While warming up Harry explained how our warming up exercises aimed to improve our singing. He then taught us about a few techniques i.e. using accents, volume and smooth/staccato in our singing.  We then continued on to learn a couple of new songs and to practice the ones we would be singing in the cathedral on Sunday.
Later, in the Cathedral, we started singing altogether in the nave and later we moved around into different parts of this very small Cathedral to hear the differences in the sound, especially when we had the freedom to stand where we liked and not in choir formation.
As with our previous visits we had a very enjoyable social evening with some individual and group singing, poetry reading, monologues and a quiz set up by two of the members.  All of these were great fun and we did a lot of laughing, snacking and some drinking too.
On Sunday, after an ample breakfast we practiced in the library before meeting up with the Chancers who arrived in time to join us for lunch and then performed with us in the Cathedral at 3 o'clock.  We all enjoyed this very much before returning to the ferry.
This year there was a change in the people running the Bed and Breakfast, but we all agreed that the organisation was good and the meals quite outstanding.
As a group, we are very lucky and grateful to our teacher, Harry for his persistence and patience in bringing the best out of the choir and also to Aileen and the committee for organising the trip.
New members are always welcome into this warm and friendly group of people who all want to enjoy singing together.
Madeline Driver
We enjoyed a fantastic joint performance with The Chancers on Thursday 29th November. It was great to have the chance to perform with such a talented bunch who brought the house down with their lively set. 
Thank you , too, to all of our family and friends who joined us and for your support throughout the year. 
A special thank you to Harry Campbell who continues to challenge and inspire us.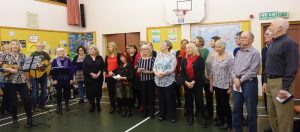 Wishing you all a very Happy Christmas and a wonderful 2019.
Sloop John B
The Chancers and Largs Community Choir
---
---
A huge and heartfelt thanks to Shona Mc Dougall and Margaret Watt who have stepped down from their roles as treasurer and secretary after many years of service.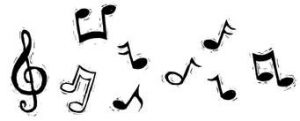 Millport Singing Workshop  Saturday 4th August  2018
We are looking forward to our Millport Away Day on Cumbrae at the Garrison Cottage on Saturday 4th August 2018. Friends and family welcome. Meeting up at the pier for 9,45am ferry.
Largs Library Information evening Wednesday 22nd August 2018 6.00 pm to 8.00pm
The choir will have a stall at the information evening if you would like to come along and find out more about us. See you there !
Singing in the Square.
Our choir year 2017/18 culminated in a performance on the new Gallowgate Square as part of the international Make Music Day 2018. We bravely battled against the winds to deliver a rousing performance of five of our favourite songs.  We  live streamed the performance on our Youtube Channel to friends and family across the miles.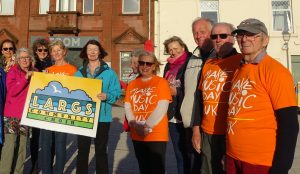 The evening finished In The Anchor Bar with refreshments and sandwiches. 
Thanks to all of those who supported the event and who have supported the choir throughout the year.  A special thanks to Harry Campbell, our choir leader, who continues to inspire and challenge us. We are looking forward to the coming year. 
Thanks to all who supported our stall at the recent car boot sale in St Columba's Episcopal Church. We raised over £240.00 for choir funds. 
Largs Community Choir Singing Weekend – April 2018
Having recently joined the Largs Community Choir, I was lucky enough to be offered a place in their Singing Weekend on Saturday 14th and Sunday 15th April.
18 choir members, myself included, began by catching the ferry to Cumbrae at 9.45 on Saturday morning en route to The Cathedral of the Isles in Millport.  On arrival we were booked in and given a very welcome cup of tea or coffee and shown to the library where we were to have our singing workshop with Harry Campbell, our  choir leader, who had joined us from Glasgow.
Harry had put together a very varied programme with some songs new to all of us and some the choir had sung before.  Singing in a choir without musical accompaniment but harmonising our voices was, for me, challenging to say the least but so enjoyable to realise I was part of the whole sound.
Altogether we had approximately 4 ½ hours singing including an hour in the cathedral which sounded great.  We, of course, had breaks for lunch and coffee or tea and then a lovely dinner in the early evening.  After dinner we returned to the library and spent a social evening, with a few games, a quiz and then were entertained by some very amusing songs and poetry readings by fellow members of the choir.  We had brought some snacks and preferred tipples along to enjoy and we all laughed a lot.
On Sunday, after breakfast, it was off to the library and another 4 hours of singing practice, including another hour in the cathedral, with only breaks to refuel and also to take in some of the atmosphere of our surroundings. Of course there was the requisite photo shoot too.
I found the whole experience so refreshing, hard work but so enjoyable and quite exhilarating.  The Cathedral has such a comforting feeling to it and the rooms we stayed in were delightfully named, Peace, Gentleness, Faith, Hope and Charity to name a few.
Can't wait to hear if we are to return next year……..
Madeline Driver, new member.
Evening Rise performed in the Cathedral of the Isles