Sunday 24th of February 1pm – 2pm Townhouse Irvine £7
 A concert of new songs by composer Alan Fleming-Baird, performed by Soprano Stephanie Strachan and accompanied by Alan Fleming-Baird.
Stephanie is an absolutely gorgeous singer . Well worth a listen !
We enjoyed a fantastic joint performance with The Chancers on Thursday 29th November. It was great to have the chance to perform with such a talented bunch who brought the house down with their lively set. 
Thank you , too, to all of our family and friends who joined us and for your support throughout the year. 
A special thank you to Harry Campbell who continues to challenge and inspire us.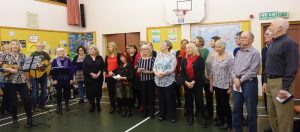 Wishing you all a very Happy Christmas and a wonderful 2019.
Sloop John B
The Chancers and Largs Community Choir
---
---
And for those of us missing singing…
Christmas Night Out 
Scotts, Largs Marina
Thursday 13th December 2018 
A huge and heartfelt thanks to Shona Mc Dougall and Margaret Watt who have stepped down from their roles as treasurer and secretary after many years of service.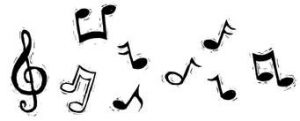 Millport Singing Workshop  Saturday 4th August  2018
We are looking forward to our Millport Away Day on Cumbrae at the Garrison Cottage on Saturday 4th August 2018. Friends and family welcome. Meeting up at the pier for 9,45am ferry.
Largs Library Information evening Wednesday 22nd August 2018 6.00 pm to 8.00pm
The choir will have a stall at the information evening if you would like to come along and find out more about us. See you there !
Singing in the Square.
Our choir year 2017/18 culminated in a performance on the new Gallowgate Square as part of the international Make Music Day 2018. We bravely battled against the winds to deliver a rousing performance of five of our favourite songs.  We  live streamed the performance on our Youtube Channel to friends and family across the miles.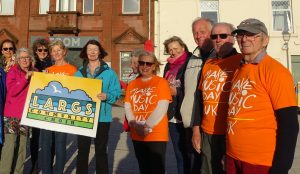 The evening finished In The Anchor Bar with refreshments and sandwiches. 
Thanks to all of those who supported the event and who have supported the choir throughout the year.  A special thanks to Harry Campbell, our choir leader, who continues to inspire and challenge us. We are looking forward to the coming year. 
Thanks to all who supported our stall at the recent car boot sale in St Columba's Episcopal Church. We raised over £240.00 for choir funds. 
Largs Community Choir Singing Weekend – April 2018
Having recently joined the Largs Community Choir, I was lucky enough to be offered a place in their Singing Weekend on Saturday 14th and Sunday 15th April.
18 choir members, myself included, began by catching the ferry to Cumbrae at 9.45 on Saturday morning en route to The Cathedral of the Isles in Millport.  On arrival we were booked in and given a very welcome cup of tea or coffee and shown to the library where we were to have our singing workshop with Harry Campbell, our  choir leader, who had joined us from Glasgow.
Harry had put together a very varied programme with some songs new to all of us and some the choir had sung before.  Singing in a choir without musical accompaniment but harmonising our voices was, for me, challenging to say the least but so enjoyable to realise I was part of the whole sound.
Altogether we had approximately 4 ½ hours singing including an hour in the cathedral which sounded great.  We, of course, had breaks for lunch and coffee or tea and then a lovely dinner in the early evening.  After dinner we returned to the library and spent a social evening, with a few games, a quiz and then were entertained by some very amusing songs and poetry readings by fellow members of the choir.  We had brought some snacks and preferred tipples along to enjoy and we all laughed a lot.
On Sunday, after breakfast, it was off to the library and another 4 hours of singing practice, including another hour in the cathedral, with only breaks to refuel and also to take in some of the atmosphere of our surroundings. Of course there was the requisite photo shoot too.
I found the whole experience so refreshing, hard work but so enjoyable and quite exhilarating.  The Cathedral has such a comforting feeling to it and the rooms we stayed in were delightfully named, Peace, Gentleness, Faith, Hope and Charity to name a few.
Can't wait to hear if we are to return next year……..
Madeline Driver, new member.
Evening Rise performed in the Cathedral of the Isles